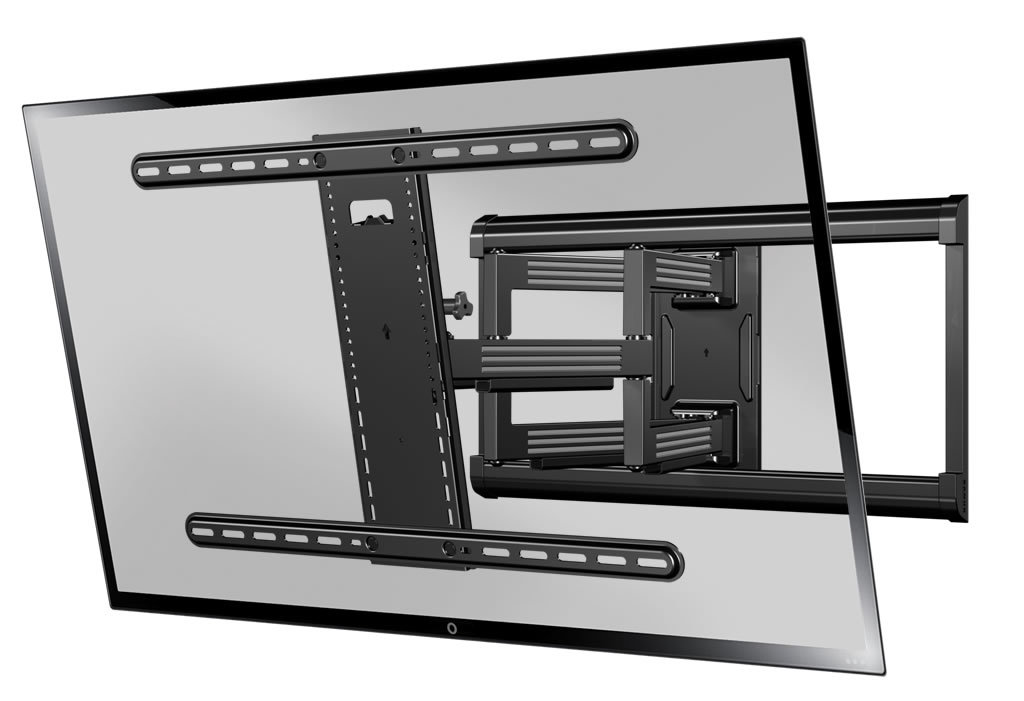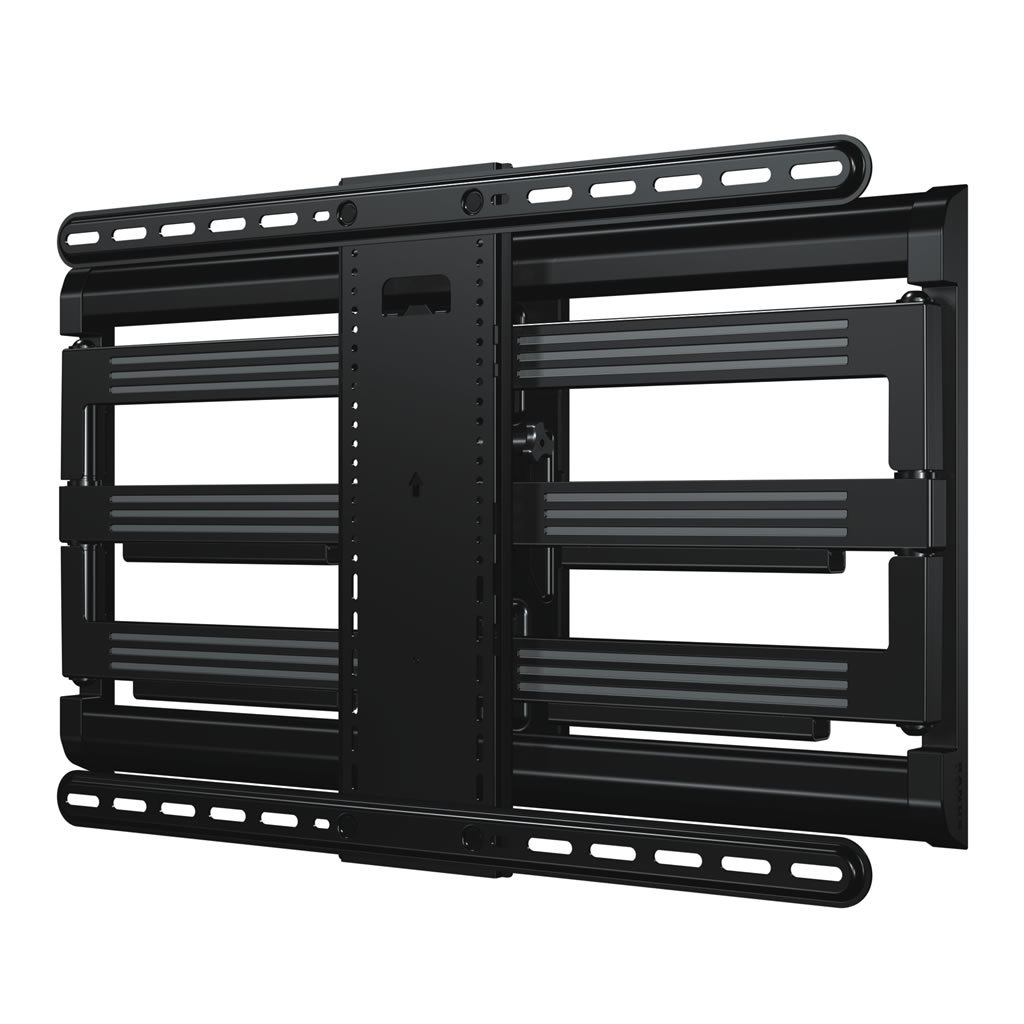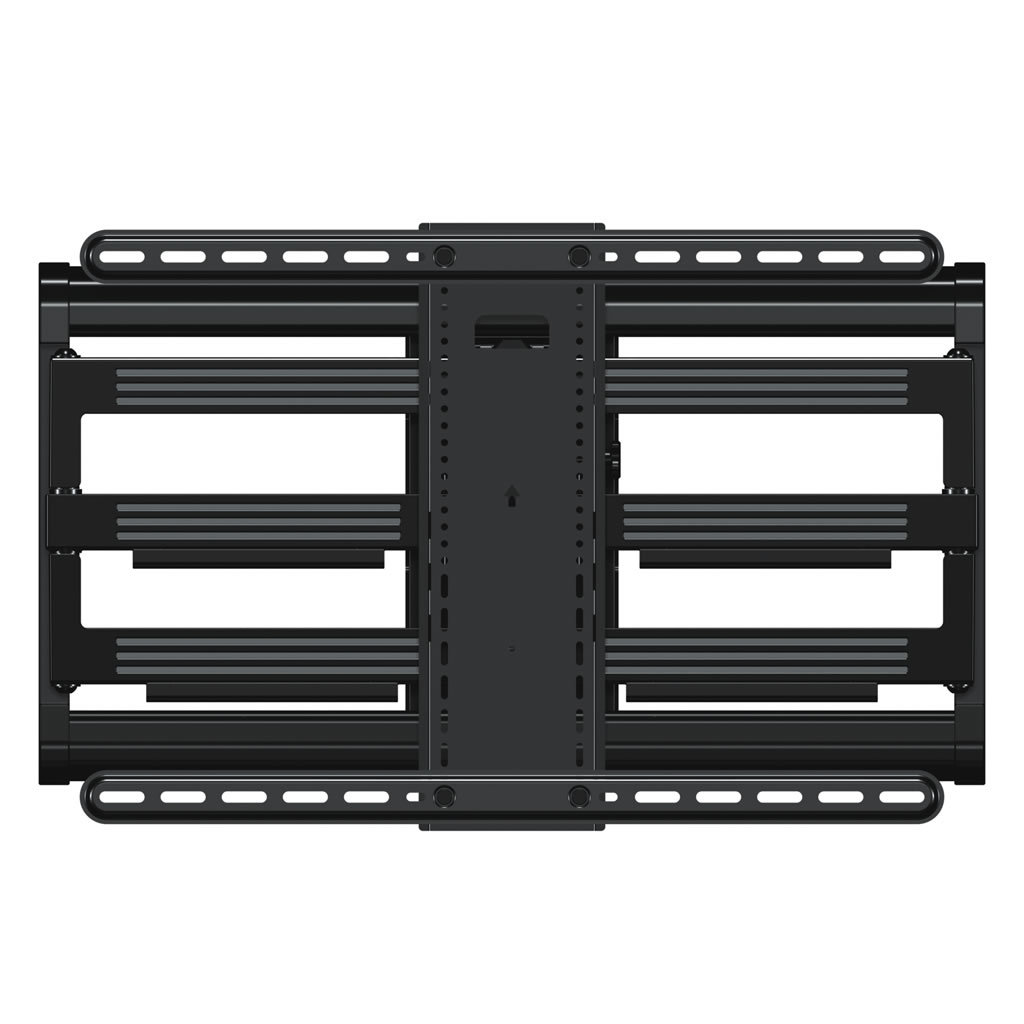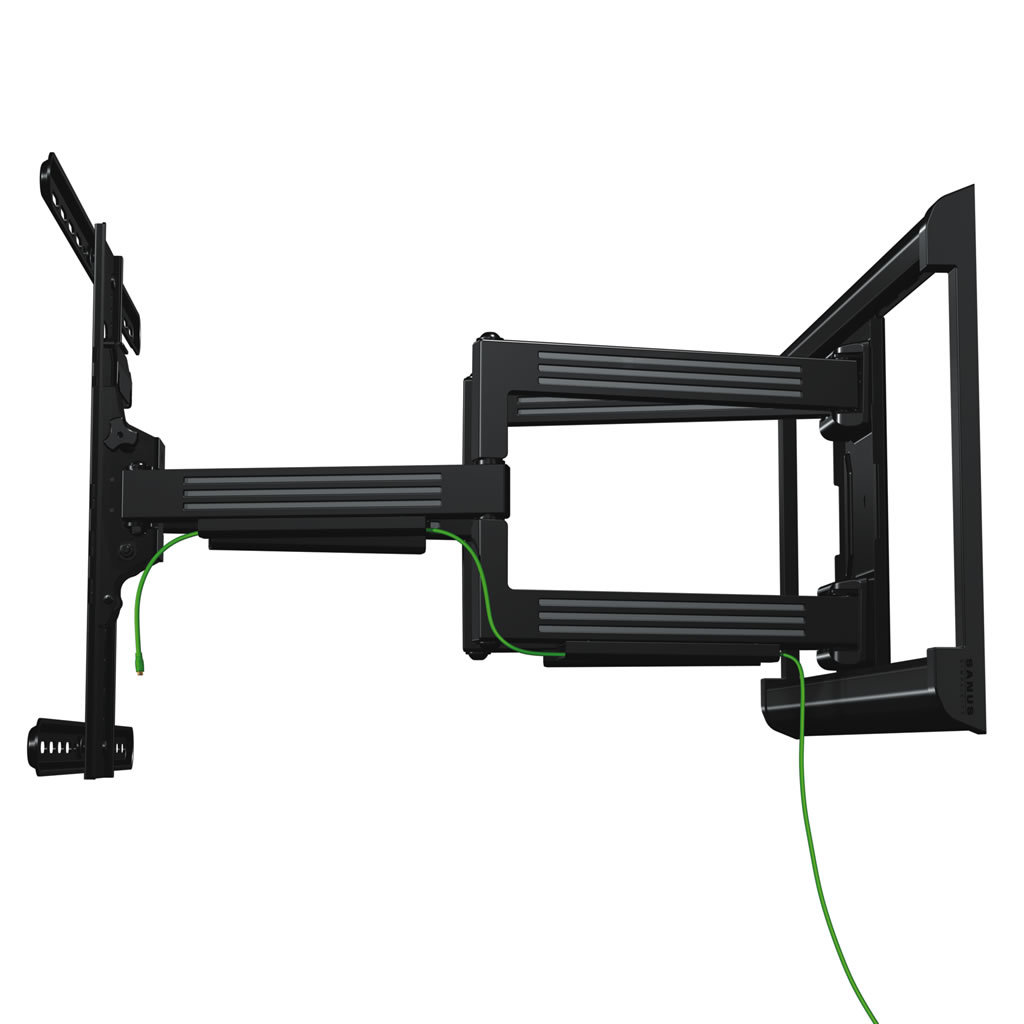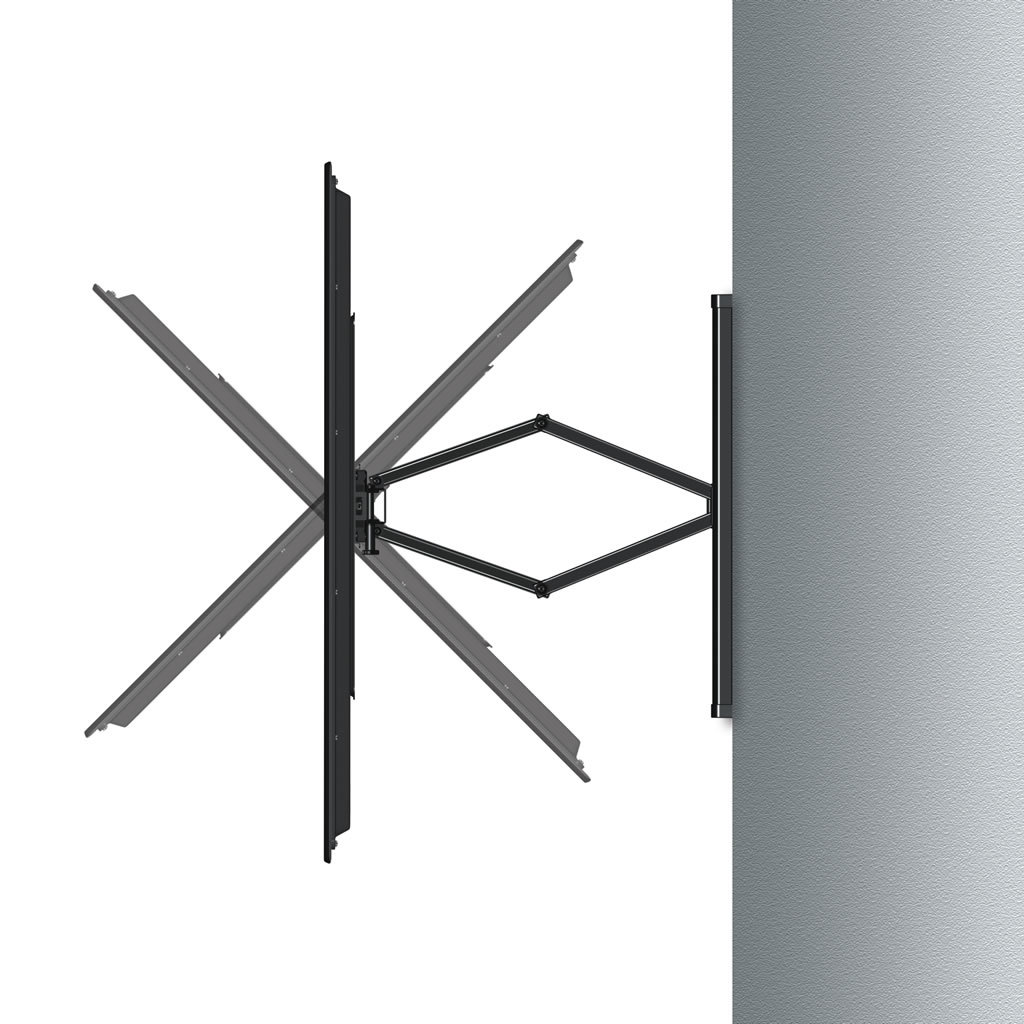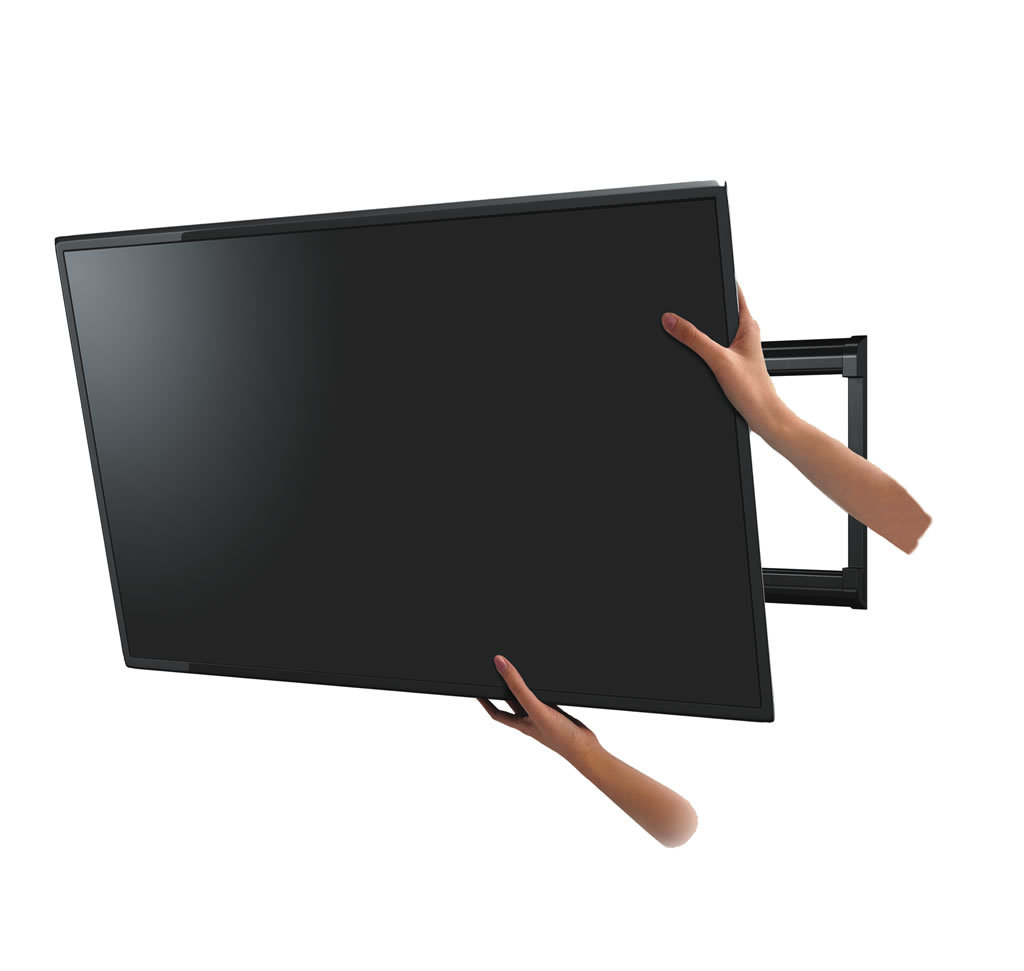 Full-Motion TV Wall Mount – For 37"-90" TVs up to 135 lbs.
SLF226
Fits TVs

37" - 90"

Swivel

90° / -90°

Extension

26.00"
SLF226
is rated out of
5
by
48
.
Will this work with my TV?
Enter the model number of your TV to find out.
Here are a few products that are compatible with your TV!
Ready to install your Mount?
Use the HeightFinder for mounting instructions.
Go to HeightFinder
Ready to install your Mount?
Use the HeightFinder for mounting instructions.
Go to HeightFinder
Videos to Get You Started
SANUS Simplicity SLF226 Features Video
SANUS Simplicity SLF226 Installation Video
Full-Motion TV Wall Mount – For 37"-90" TVs up to 135 lbs.
The SANUS Simplicity™ SLF226 full-motion tilt and swivel TV wall mount fits most flat-panel and curved TVs 37" – 90" up to 135 lbs. The dual articulating arms on the SLF226 let you extend, tilt and swivel your TV up to 26" from the wall, so you can always find the perfect viewing angle, giving you optimum picture quality no matter where you're sitting in a room. Exclusive tilting technology allows effortless tilt motion with just the touch of a finger. Cable management channels secure loose cables along mount arm for a clean look. Post-install level and shift adjustments ensure TV is perfectly positioned. Fits most flat-panel and curved TVs up to 90". Includes a 5-year limited warranty.
Product Features
Allows you to effortlessly turn the screen to any seating position in the room with air glide technology
Provides ultimate stability by firmly holding your TV in the desired position.
Stylish design provides a sleek, simple appearance leaving a minimal amount of space between your TV and the wall.
2.7" low profile depth to complement thinner TV's.
26" of extension to provides flexibility for positioning.
Universal TV interface provides maximum compatibility for all TV brands.
Tools You Will Need For Installation
3/8" Masonry Bit (Concrete Installations)
Phillips Head Screwdriver
The Details
Product Brand:
SANUS Simplicity
Model Code:
SLF226
UPC Code:
- Black

Product Width:

27.60

" /

70.10cm

Product Height:

17.70

" /

44.96cm

Product Depth:

2.70"

-

26.00"

/

6.86cm - 66.04cm
TV Size Range:

37"

-

90"

/

93.98cm

-

228.60cm

Maximum TV Weight:

135lbs

/

61.23kg

Universal Mounting:

Yes | 100 x 100 through 600 x 400

Supported VESA Patterns

VESA 100 x 100
VESA 100 x 150
VESA 100 x 200
VESA 200 x 100
VESA 200 x 200
VESA 200 x 300
VESA 200 x 400
VESA 300 x 100
VESA 300 x 200
VESA 300 x 300
VESA 300 x 400
VESA 400 x 100
VESA 400 x 200
VESA 400 x 300
VESA 400 x 400
VESA 500 x 100
VESA 500 x 200
VESA 500 x 300
VESA 500 x 400
VESA 600 x 100
VESA 600 x 200
VESA 600 x 300
VESA 600 x 400

Tilt:

4°

/ -

15°

Roll:

5°

/ -

5°

Swivel:

90°

/ -

90°
Rated

1

out of

5
by
Mike54
from
Instructions and height finder no help
The only model not listed on app to determine the drill height for holes. Tried calling, no help just long wait times. Costco always sells odd unusual model number junk that isn't supported by manufacturers probably because they don't make any profit distributing through them. Won't make same mistake again. Will return and get a brand that offers real support.
Date published: 2022-02-03
Rated

4

out of

5
by
DrDan
from
Very well made, works great, bad instructions
I just put up a 65" OLED using this. Now that it is up, I love it. Strong, well-made, works great. But the instructions are laughably bad and NO, there isn't a video here! With good instructions it would have been quite easy, and the really complicated part - the swing arm itself, comes already assembled. But I could not figure out from the instructions or the "help" offered here, just how to install it so that my TV would be a certain distance off the ground. There is no drawing that shows that. I finally guessed - not bad, but I'm going to have to take the TV off the wall and move it down a few inches. Another hour that I didn't want to lose. BTW, when you open the box it comes with long plastic pouches with hundreds of special screws, bolts, washers, and spacers. Fear not - you'll only use a few of them for your particular TV. But again, good luck figuring out which ones work for your TV!
Date published: 2021-12-10
Rated

1

out of

5
by
Do not buy this
from
No 5 mm screw
I see I'm not the first to discover this but I do blame myself for getting into the project without noticing this incompetent manufacturer cannot include all the necessary screws. This is not the quality expected from a Costco product
Date published: 2021-12-06
Rated

4

out of

5
by
Jimbo43
from
MISSING
Installer indicated it was a good, solid mount. However, the screw packet he needed was missing; I had purchased the mount from Costco and the box had been unopened, so unsure of why the packaging was incomplete. Fortunately the installer had a pack of screws which worked. Would like to still be able to get that packet to replace the ones he used. Sometimes I question whether buying technology from Costco is the best idea, or is it a Sanus issue??
Date published: 2021-11-03
Rated

5

out of

5
by
Chris307
from
Great TV Mount!
This was easy to install and the instructions and video were very helpful. Seems to be sturdier than our last one and is perfect for our 75" LG tv. I didn't mind paying a little extra for good quality and this product exceeded my expectations!
Date published: 2021-10-29
Rated

3

out of

5
by
CoryLitz
from
Missing the TV Mount Screws & Locking Screws
Missing the four M5 10 mm screws that hold the vertical bracket to the horizontal brackets on the back of the screen. Also missing the M5 6mm Locking screw that the manual says DO NOT INSTALL TV ON WALL WITHOUT THIS. We bought two of these and both packages were missing these. Having trouble finding 8 M5 10mm screws... and 2 M5 6 mm locking screws in our community. Would give a higher rating if everything was actually in the packaging.
Date published: 2021-10-14
Rated

1

out of

5
by
Anonymous
from
Failedl
This mount held my Samsung 82 inch fine for almost a year. Tonight it failed with catastrophic results. The TV pulled away from the mount and crashed to the floor. The set is destroyed. I am an engineer and I discovered the top metal lip bent upward and the set screws pulled out of the socket, both of them! The mount is rated for 135 lbs. And my 82 inch was 100 lbs.
Date published: 2021-10-09
Rated

1

out of

5
by
Ernie
from
Missing hardware
Everything is great, except missing the screws that hold the vertical bracket to the horizonal brackets to the back of the TV. This should be NO BRAINER. You should always have the hardware for the product you build. I now have to go find four 10MM screws before I can attach the vertical mount. I would recommend if you have access to a lot of fasteners.
Date published: 2021-09-19
Rated

5

out of

5
by
Adam
from
All around great mount
Bought this mount from Costco after seeing it recommended by B The Installer. Overall this mount is a one stop shop for most people looking to mount a large or small flat screen and require mobility. Fairly easy install and hole system works with studs at varying different distances (mine were 19 and worked great).
Date published: 2021-09-13
Rated

3

out of

5
by
Jean
from
Solidly built but bracket blocks rear ports
We purchased a LG 65" TV and this wall mount from Costco. Box description states this will support 37" up to 90" TV's. The problem I ran into is that the bottom horizontal bracket that attaches directly to the TV partially covers the power port on the left side; completely blocks one port and partially covers 2 others on the right input/output side. Because we will not use the RS232 port that is completely blocked, we decided to keep this wall mount and work with it. I ended up using the 5mm plastic spacer provided with the kit to provide enough space between that bottom bracket and the TV. This did nothing to uncover that fully blocked port on the right side, but did create enough space for the power adapter to remain inserted without pushing against the bracket.
Date published: 2021-05-23
Rated

3

out of

5
by
Chris231
from
Make sure you have the right sized screws first.
I bought this mount before for my other TV and have liked it very much. However, buying it for my other tv, there are no mounting screws that fit my tv, despite saying that my model is compatible with this mount. It's a fantastic mount, and it works great, but finding out after all hardware stores are closed that I have to purchase screws separately after already tearing apart my tv and bedroom to install this is not what I would call a good thing.
Date published: 2021-04-26
Rated

1

out of

5
by
Synan
from
Poor video of some other model and the whistling S
It would help if the video revealed the same model as purchased! The whistling SUCKS and I want to hear the guy not some loud whistling!!!!!
Date published: 2021-04-25
Rated

5

out of

5
by
Toon
from
Well-built television mounting device
This was the mount I purchased from Costco for my new 65" television. I was not disappointed with this mount. It was pretty easy to install and all of the screws, bolts, and parts were inside the box. The directions were easy to understand. There are a lot of bolts that won't be needed but thats only because each television mounting ports are different sizes and lengths. Read the directions carefully and you'll have no problem installing this must.
Date published: 2020-04-23
Rated

1

out of

5
by
Michael
from
missing parts twice
Terrible. Bought one and missing several bolts. Bought second, checked all packages before leaving store. Put it together and the locking bolt is too short. Direction show a longer one. Now back to the hardware store and try to get the right one. Junk
Date published: 2020-02-16
Rated

5

out of

5
by
henning
from
arm mechanism seems to be of high quality
Arm mechanism seems to be both well-designed and well-made. Holds 40" Vizio with no wobble (weighs less than 20 lbs; the mount weighs about 35 lbs). As noted by others, the installation instructions and video are not the clearest, but if you take your time, and test the fit of the parts in advance, it goes well. Be advised that the minimum stud separation is 16". If you're installing the mount in a location where the stud separation is less than that, you'll either end up taking the unit back, or drilling your own installation holes in the wall plate, which is what I did (the latter may impact the warranty).
Date published: 2019-11-22
Rated

5

out of

5
by
CJD312
from
Great mount- Don't hesitate
I bought this mount to install my new 75 inch Qled TV from costco. Mount was easy to install, with the provided resources. Height finder got the TV within 1/2 inch of the height I desired- Probably an error on my part. good quality mount.
Date published: 2019-11-18
Rated

1

out of

5
by
stevens
from
wrong instructions
not the right vid for COSTCO mount...seems to work, but still a pain...screws poorly named...
Date published: 2019-10-23
Rated

5

out of

5
by
Elephant
from
Straightforward and solid
Instructions were clear. Regarding complaints of other reviewers about the video, it should be acknowledged that the video says it is only for general explanation of the process, not this or that exact model. It was helpful to look at the video, then read the instructions. It is true instructions said to drill deeper than a standard drill bit, but I did not buy longer drill bit. Just had to turn wrench a bit harder, but not that much harder. Very happy with range of motion and sturdiness. This is a much better product than the average star rating indicates.
Date published: 2019-09-24
Rated

1

out of

5
by
DADE
from
Poor installation video/ incorrect for Costco unit
The Costco model SLF226-B1 is not the one shown in the video. The video is for a different product. Good luck figuring out which way the TV plates are supposed to mount. Won't know if I mounted them backwards until I try and hang it on the wall. Major bummer. Cant find a YouTube video either. :-(
Date published: 2019-06-22
Rated

4

out of

5
by
mgiusto
from
Great price, extremely flexible mount.
Got this at Costco and I really like how much range this mount has both away from the wall and tilting left or right, just a ton of viewing options which I love. The one concern I have is how you hang the entire TV on this one little triangle shaped thing on the wall mount, I just can't sleep well at night thinking that's the only thing holding the weight of my 75" Sammy QLED. It's been fine for the first night but here I am typing this review at my office and hoping I don't come home to a $2300 QLED coffee table later. I think they should have come up with a better hanging mechanism that's all. It is probably fine but that's just my only concern. One thing I do want to point out when mounting anything to the wall is to check the back of your TV to see where the mounts are because with my Samsung the holes on the TV were not vertically center of the TV, they were lower than center and the bracket Sanus gives you for the TV only connected to my particular TV with the highest top holes and the bottom lowest so I had no play area to adjust that bracket up or down like you probably could do with other TV's to get the bracket to be center of the TV. So with that, I had to adjust my wall bracket which I had already mounted to be center on my wall. I wound up having to move my wall bracket 1 inch up to have the TV hang center. I just wanted to make my pain a lesson to others.
Date published: 2019-06-06
Rated

3

out of

5
by
Helen
from
Sturdy support
Had to upgrade wall mount for new TV as previous X version would not support it. Directions are very poor. Had to call for support which is quite helpful. Once finally assembled it's great. Can't believe the TV hangs on that small center piece. Wish the tv would also tilt up and down.
Date published: 2019-05-06
Rated

3

out of

5
by
Joe regular
from
Mount is 5 stars, install video&inst are 1 star
Directions say to go to website to see how to install. Then the video shows a different product being installed. Print instructions were okay... some unclear parts. Very poor install instructions for such a quality product. Love the mount. Stays level, e tends and moves easily.
Date published: 2019-02-16
Rated

4

out of

5
by
Kathie
from
Difficult Install but great features
Just installed this this week. We had a number of small complexities in the install. First, to attach the mount to the TV back, some TV's come new with customized spacers, but we could not find ours so we had to make due with approximate ones (used a combination of washers and the small spacers that came with kit). For mounting into studs you need an extra long drill bit to drill 3.5 " pilot holes - trip to hardware store. When screwing wall plate to wall with socket wrench you need to be sure to center the holes carefully within the openings or the hex screw heads will catch on the lower rails. We had to adjust a few times and use open wrenches on the bottom hex screws. Overall the install took a long time. Once it was up it IS very sturdy. We also mounted it a bit too low considering we might want to put something on top of the TV Cabinet. I should have taken that into account instead of paying so much attention to optimal seated view height. It will be nice to be able to reach the connections in the back with the full extensions.
Date published: 2019-01-29
Rated

5

out of

5
by
Tim The Toolman
from
This is a Great TV Wall Mount
We bought this at Costco. They had two others that were not as good of quality. This was easy to install and we like the quality of all of the parts. I read the manual and watched the installation video. The wall position template worked great. If you have the tools needed, this is not a problem. We love it.
Date published: 2019-01-24
Rated

5

out of

5
by
Burny
from
Easy to install as long as the directions are foll
Bought this from Costco earlier this month. Read and followed directions and haad great results. Unit is very nice and easy to use. Well worth the cost
Date published: 2019-01-23
Rated

5

out of

5
by
mike0689375
from
Perfect for the price at Costco!
Easy to install, recommend using the online height finder. Works great being able to chose the lateral position!!! Saw a lot of complaints about the mounting brackets blocking cable plugs on the back of TV; this happened with my LG as well but you just use the provided spacers to create enough room to use all plugs.
Date published: 2019-01-21
Rated

5

out of

5
by
Russ1022
from
Love this mount!
After purchasing a smaller Sanus mount for my 58" Samsung at Costco, I decided to mount my 65" with the bigger more expensive SLF226 also purchased at Costco. It was as easy as the smaller mount even though the SLF226 has more components and is a bit more complicated. I was having leveling issues and could not figure out what the manual was saying. However, as quick note to customer service/support, it is level and I am extremely happy. This is what I received that may be of help to others: "You will have to remove the locking screw. Then physically move the TV left to right and level it. Once you have the TV leveled you will then turn your leveling screw clockwise or counter clockwise so that the little bracket on the leveling screw lines up to the hole again. Then reapply the locking screw. Thanks, Courtney Customer Care Specialist" The manual lacks this text which is a big mistake. I give the mount 4 stars (I wish I would have spent more for a little better mount) but because of Sanus' customer service, especially Courtney, I am giving it 5 stars.
Date published: 2018-12-22
Rated

2

out of

5
by
Gina
from
Can never get it level...
We install TVs and customer buy this mount at Costco but the TV never looks level...however it is. The problem is that there is too much play left to right. If the set screw hole was oblong rather than round then you could adjust to the play/wiggle room. Most houses are not level...there is no way to compensate for it.
Date published: 2018-12-19
Rated

3

out of

5
by
Memorex
from
Its Ok.
Bought this wall mount from costco. Instructions i found were ok to use, but found out quickly that the hardware for attatching to the tv blocks input jacks for RGB on my LG65" which i also purchased at costco. It doesnt block the power input or the hdmi plugins which was a plus. Considering Sanus website mentioned it was compatiable with my TV. I also found that the tension tilt knob to tighten or loosen is not welll built/made. My first purchase with this mount i guessed i overtighted the knob and somehow stripped it and it wouldnt keep the tv at a tilt that i needed. So i had to return the whole mount back to get another thinking it would be better. Not really. Still have to be carefull as to not tighten to much. All in all a very sturdy mount. Strong and designed well to look good.
Date published: 2018-11-30
Rated

3

out of

5
by
RDeeJ
from
Good Mount - Install not so good
Before attempting installation, I studied all documentation that came in the box as well as information on the website. I even read all of the reviews. The review that I should have paid close attention to was the one that warned you not to rely on the HeightFinder tool on the website. As there is really no other way to determine where to drill holes for my desired TV position I had no choice but to use the tool. My situation was somewhat different than most, I was trying to mount my TV between an existing entertainment center, so my measurements had to be precise. After measuring the distance I wanted the TV from the floor I entered that distance (plus an extra 1/4 inch just in case) into the tool. I drilled my holes exactly as told. Loaded the TV on the mount and it would not clear the top part of the entertainment unit. The measurement was 1 1/2 inches off, which might not seem like much, unless you're trying to fit the TV into a wall unit. So I had to start all over again! What was going to be a 2 hour job turned into much more!! Also, the bracket on the back of my TV was at the max screw holes top and bottom, so I couldn't adjust there. The other issue that I had once I finally got the wall bracket at the right height and the TV back on the mount was leveling. The instruction manual tells you to tighten the set screw on the bracket after hanging the TV, which I did. But you can't turn the leveling screw with the set screw completely tightened, took me a bit to figure that out. Overall I believe the mount is a good one, but the installation could have been much easier with more accurate instructions and a more accurate HeightFinder. I wanted the mount so that I could bring the TV out flush with the wall unit. On the stand it sat a good 6 inches into the unit and you couldn't see part of the TV when not sitting directly in front of it. This did solve that issue.
Date published: 2018-11-30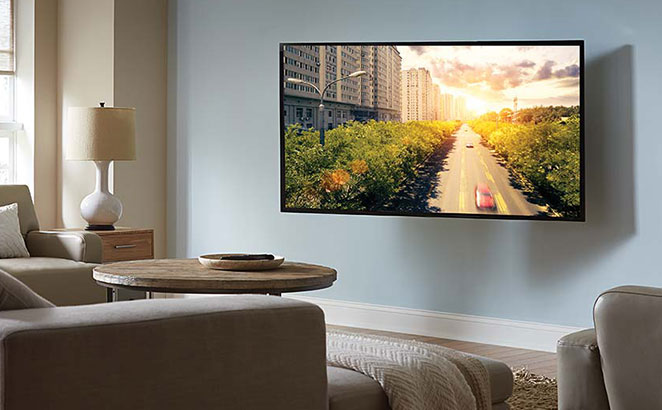 SANUS is the #1 best-selling TV mount brand in the U.S.*
Questions? Contact Us
Monday - Friday 8am - 7pm CST
Saturday - Sunday 10:30am - 7pm CST
*NPD annual dollar sales period ending 12/31/20