Full-Motion TV Wall Mount – For 22"-55" TVs up to 60 lbs.
SMF218
Fits TVs

22" - 55"

Swivel

90° / -90°

Extension

18.00"
SMF218
is rated out of
5
by
54
.
Will this work with my TV?
Enter the model number of your TV to find out.

Here are a few products that are compatible with your TV!
Ready to install your Mount?
Use the HeightFinder for mounting instructions.
Go to HeightFinder
Ready to install your Mount?
Use the HeightFinder for mounting instructions.
Go to HeightFinder
Full-Motion TV Wall Mount – For 22"-55" TVs up to 60 lbs.
The SANUS Simplicity™ SMF218 full-motion tilt and swivel wall mount for most 22" – 55" flat-panel and curved TVs up to 60 lbs. Get the best picture quality anywhere in a room with smooth swivel, pan and extend motions up to 18" from the wall. Exclusive tilting technology allows effortless up and down tilt motion without the use of tools. Post-installation adjustments allow you to level your TV after installation for perfect positioning. Cables can be routed along the mounting arm for a clean look. Included extender brackets and universal compatibility allows mount to fit nearly all flat-panel and curved TVs 22" – 55".
Product Features
Allows you to effortlessly turn the screen to any seating position in the room with air glide technology.
Provides ultimate stability by firmly holding your TV in the desired position.
Stylish design provides a sleek, simple appearance leaving a minimal amount of space between your TV and the wall.
2.4" low profile depth to complement thinner TV's.
18" of extension to provides flexibility for positioning.
Universal TV interface provides maximum compatibility for all TV brands.
Videos to Get You Started
SANUS Simplicity SMF218 Features Video
SANUS Simplicity SMF218 Installation Video
Tools You Will Need For Installation
3/8" Masonry Bit (Concrete Installations)
Phillips Head Screwdriver
The Details
Product Brand:
SANUS Simplicity
Model Code:
SMF218
UPC Code:
793795532145 - Black

Product Width:

17.30

" /

43.94cm

Product Height:

17.30

" /

43.94cm

Product Depth:

2.40"

-

18.00"

/

6.10cm - 45.72cm
TV Size Range:

22"

-

55"

/

55.88cm

-

139.70cm

Maximum TV Weight:

60lbs

/

27.22kg

Supported VESA Patterns

VESA 75 x 75
VESA 100 x 100
VESA 200 x 200
VESA 200 x 300
VESA 300 x 200
VESA 300 x 300
VESA 400 x 200
VESA 400 x 300
VESA 400 x 400

Tilt:

4°

/ -

15°

Roll:

5°

/ -

5°

Swivel:

90°

/ -

90°
Universal Mounting
VESA patterns are measured by the center of one mounting hole to the center of another on the back of a television in millimeters. In the example above, the VESA measurements are 100 (width) x 100 (height). The example TV would be able to use a VESA 100 x 100 mount.
Rated

1

out of

5
by
JoeH
from
Hardware Kit v2
We had this same mount 3 years ago, it worked great. They must have redone their hardware kit. We moved and bought the same kit (from same store) this but the latest kit does not have screws in same lengths as last time and would not work. Returning.
Date published: 2021-06-12
Rated

2

out of

5
by
Andrew
from
Socket Set not listed in parts needed
Pretty disappointed that I apparently need a socket set to mount this. Wasn't included in the list of needed tools. This just made my day a lot more difficult now.
Date published: 2021-06-08
Rated

1

out of

5
by
RCampbell
from
Toshiba 50
Doesn't fit the new toshiba 50 inch. The two bars that look like a smiley face don't match back of tv without hanging over Instructions video not specific either to type if Sanus mount.
Date published: 2021-04-04
Rated

5

out of

5
by
Moderndad
from
Works great!
This was by far the easiest wall mount I've installed. It was for a Vizio 50" TV. To those who complained about not being able to center the TV on the wall, I had the same problem. We have a vaulted ceiling in the master bedroom, and no stud in the middle. I simply attached the wall bracket to the stud to the left, and folded the TV to the wall with the arm extended to the right. Now it's centered.
Date published: 2021-02-28
Rated

5

out of

5
by
Tommy D
from
Best mount I have ever used, I have 2 now!
I got this mount and use one in my garage I thought it was excellent with all the range and has in all the various angles you can put it in far better than any mount I ever had this mount moves around and tilts everywhere I mounted a 49" LG tv I think it's fantastic the hardest part is finding the studs to mount it securely I like it so much though that I put another one inside my house.
Date published: 2020-07-27
Rated

1

out of

5
by
tvmountfailure
from
Not compatible with Sony 55' TV
Bought this from Costco like most people writing the review. When installing I was trying to screw the middle plate into back of the TV. Yet there was no location to screw into. It is a little frustrating having to go back to Costco to return. I wish that the box was clear about what TVs it is compatible with. It would save a lot of people time. The product has very unclear instructions, which has labels for all the screws yet doesnt tell you which ones to use.
Date published: 2020-07-20
Rated

1

out of

5
by
Joel
from
Difficult to install; poor quality
I bought this mount from Costco several months ago. Instructions are not helpful. Mount is not heavy duty. Difficult to install. Even after mounting wall mount to studs and verifying that it was level; TV frame does not allow for level installation. Sanus product is not very high quality.
Date published: 2020-06-28
Rated

2

out of

5
by
SJWinCMH
from
Find out if your TV is compatible BEFORE you buy!
Bought it Costco and opened the package and used the HeightFinder feature only to find out my 32" LG TV isn't even compatible. There is nothing on the outside of the box to let you know your TV may or may not be compatible. Big misstep on Costco's part.
Date published: 2020-06-22
Rated

5

out of

5
by
Phil
from
Solid wall mount! Easy to follow directions
I just mounted an older (awesome) 30" monitor to my kitchen wall. Unit feels very solid and secure. Easy to adjust tilt and level, as well as extending and turning. I found the enclosed written directions very clear and easy to follow. I like how all the hardware was separated in individual labeled packets. No fishing through a pile of screws, nuts, and bolts. The Sanus heightfinder tool online is nice, though I ended up having to mount higher due to an electrical junction box cover. I did put locktite on the bolts into the back of the monitor for some added peace of mind. Happy with purchase. Thanks!
Date published: 2020-05-30
Rated

1

out of

5
by
Rebecca
from
Don't waste your money
If the stud you need to mount the Sanus to isn't in the perfect location then you're out of luck. Considering that most studs are 16 inches apart, odds are Your TV will be off center. There's no way to center it. I'm taking it back to Costco so I can buy a different brand—one a bit more honest about their products. Nowhere on the packaging or in the instructions is a warning about this design flaw.
Date published: 2020-05-29
Rated

5

out of

5
by
k9docntx
from
Worked Great for our TCL 55"
I was a bit concerned when I came to the Sanus website to watch the videos about installation and see comments that the video link wasn't exactly like their model. I then went to the reviews and read one from just 14 days ago that leaves me even more uncomfortable as the negative review described my exact scenario; I bought the wall mounting bracket at Costco along with a TCL model 55R613. The previous reviewer said it didn't work for him and his TV. So before I got too involved, I called customer support to clarify. I had to wait on hold a bit shy of 10 minutes before speaking to Max, who verified the weight and mounting arrangement should work. I decided to give it a go and it worked perfectly. The TV came with screws in the mounting bracket holes, so I didn't have to determine which ones to use from the included "variety pack". The mounting area is on the lower half of the TV and I was able to maximize bracket contact by facing the concave side towards the bottom. After that, it was pretty much exactly like the instructions, including the tilt and leveling instructions. The only problem I had besides the customer service hold time wait was that the TV power cord needs to be much longer.
Date published: 2020-05-06
Rated

1

out of

5
by
Lclynch
from
Not usable for our TCL 55"
Just bought this at Costco because we were also buying a 55" TCL (6-series R613/R617) tv. The instructions are supposed to be simple "only 3 steps" but all of the well labeled pieces are not named the same in the pamphlet of instructions. The video online is not the same as the model we have even though we went to the website recommended. So after we screwed in the brackets to the back of the TV and was told to center the next piece we realized it wasn't going to work because we could not center it and still screw both sides down.
Date published: 2020-04-21
Rated

5

out of

5
by
MichaelB
from
Fine mount.
At first I was disappointed that I had to find a stud to mount this, but I'm very happy with the stability of the result. It is easily the easiest to mount of any that I have used. I had to invert the lower bracket in order to plug in the TV. Another hiccup was that I didn't realize that all I had to do was pull a little harder to get the TV to tilt. Found that out from the video. Fine product. My TV came with mounting bolts, so I didn't use any of those provided. Maybe they should be recycled?
Date published: 2020-04-05
Rated

2

out of

5
by
Upset single mom
from
Sanus smf218-b1
I finally got the mount on the wall...but it does NOT seem secure or safe at all!! And I haven't even hung my tv onto it yet!! I followed all the directions and after putting in the lag screws I moved the mount side to side like the video directions told me..as soon as I did that I saw that the screws were budging out! I tried tightening them again but when I moved the moveable part of the mount to the side again it didn't stay secure!! I still haven't put the tv on because I don't want it to give out in the middle of the night or crash and fall on my kids!!! I'm returning this thing.
Date published: 2020-03-30
Rated

1

out of

5
by
Ronn J
from
Won't work for my Samsung
None of the spacers or M8 bolt lengths work with a 50" Samsung UN50NU6950. Very disappointing waist of time. Will be returning it to Costco instead of spending the time cutting down or finding correct bolts and spacers. Even with the Samsung spacers the supplied bolts don't work. Quality seems to be ok.
Date published: 2020-03-25
Rated

4

out of

5
by
Bert
from
Decent mount but…
I leveled the drilling template as directed in step 2 however; the lag bolts have a much smaller diameter than the holes in the arm assembly plate. The TV is slightly skewed (not horizontally level) due to that small tolerance between the lag bolts and plate holes. I suggest putting some lock washers on the lag bolts in order to lock it in. I'm not looking forward to disassembling it but I hope that will do the trick.
Date published: 2020-02-23
Rated

4

out of

5
by
Jonny_Cheesecurd
from
First timer and had no trouble
Installed mount on a 40" TV in my basement/exercise room. This was the first TV I've ever wall mounted. Instructions were as clear as can be expected with the multiple potential configurations that can be used. Everything needed was included for my setup. I suggest attaching power cable and any planned inputs/HDMI etc. you intend to use before beginning. This way you will be certain whether or not you need to add spacers. Initially, I thought I would not, but when I plugged in the power cord it was clear that I did. Visited web page with video. It was not the same unit so I didn't even watch. Only critique is if video isn't the exact product purchased it is counter productive to have it listed in the instructions. Overall found this a straightforward fairly simple install. I would buy again.
Date published: 2020-02-17
Rated

4

out of

5
by
Pb123
from
Good
I would agree that the video doesn't show the right product which is annoying, but this site has the manual clearly attached so it really isnt that bad. Easy to install and works well.
Date published: 2020-02-09
Rated

5

out of

5
by
Dadawads
from
Worked great
I just finished mounting our 42" Vizio tv in a little corner in our bedroom, I watched the videos and studied the directions. Then I just followed the steps and voila, all the parts were there, and our tv fit perfectly. It's a minimalist stand, but anything bigger would not have worked in our very limited space. I wouldn't recommend it for a 50 inch plus tv, but for our sized tv it was ideal.
Date published: 2020-01-18
Rated

3

out of

5
by
MountAngelDude
from
Difficult installation without correct parts
I bought the SMF218 at Fry's Electronics after checking compatibility on the SANUS website with a Samsung 55" TV, using the model number. Assembly of the arms went well and was fairly easy according to the instructions. As others have pointed out the instructional videos are generic so aren't of specific help when a problem arises. The Samsung TV we have has a curved back. Problem number 1 is that the spacers provided don't fit a Samsung, they have their own, unique size which came with the TV. I likely saved them but can't find them anywhere. Had to order those which is ok, but a heads up from the compatibility checker might have been nice. Second problem, the M8 bolts which are included in the kit aren't long enough. None of them fit the pair of deeper holes at the bottom of the TV, they touch the nut but are 1/4" too short to actually attach. When adding the spacers for the top holes, all of the M8 bolts are 1/2" too short. I'm headed to the hardware store to see if I can find what I need. I'm in a small town so have no clue if these are stocked at the local store. So far, frustrating!
Date published: 2020-01-11
Rated

2

out of

5
by
Roj710
from
Instructions to watch non-existent video, funny!
Instruction Manual says "We're here to help" and refers you to "SMF218-B! Installation Video" to be found at "SANUS.com/2688". No such video on the website, though there is a more general installation video that focuses on a completely different model with different considerations. Why pretend? We are also referred to a "HeightFinder" video at "SANUS.com/1173", Where you are first asked for your Television's model number, then it asks for your mount's model number, though it doesn't respond when you type it it, so you have to select it from the extended list at "View All Mounts". Once you've found your model listed and click on it the website goes into retrieval mode -- it's been about 3/4s of an hour so far and it still hasn't found whatever it's looking for. So, OK, the actual manual looks fairly comprehensive, so I'm not really expecting more than the usual amount of trouble, but so far all their splashy helpfulness has done for me is waste my time. Not encouraging. I sure hope the quality of the actual mount is superior to that of their website. AS I have not yet installed the device I cannot yet answer most of the rating questions below, though apparently I can't post my comments without saying whether or not I would recommend the product. So far, I gotta say no. If it's possible to update this review I'll do so when the time comes.
Date published: 2020-01-09
Rated

4

out of

5
by
DIY Grandma
from
Wish I had Installed A Wall Mount A Long Time Ago
Other than a little help placing a new VISIO 40-inch TV, the SANUS SMF218 was easy to install. It wasn't a fast process, due to the wide array of hardware that was included. I guess there's no way to avoid that issue because this TV wall mount is not specific to any one particular TV brand or model. Just a note that one of the lag bolts broke inside the wall so they aren't made from hardened steel. A trip to the hardware store was made for extra lag bolts. Arrange all hardware and parts on a flat surface and make sure you have everything listed before starting. For VISIO Model No. V405G9, the following hardware was used: M6 x 35 screw M6/M8 washer Universal spacer (the smaller spacer would have worked as well) TV bracket screws (4), Lag bolts (2), and Locking screw (1), are hardware that everyone will use. My installation was done on drywall and into the stud.
Date published: 2020-01-03
Rated

1

out of

5
by
Dissatisfied
from
Useless video
I have the single stud model. In another words, the other model. Useless
Date published: 2019-12-29
Rated

2

out of

5
by
Eugene
from
No video!
Bought in Costco. The videos on the web site do not work!!!
Date published: 2019-12-22
Rated

1

out of

5
by
Mundash
from
Annoyed, by the wrong video.
I have the SMF218 with the single stub mount and bracket. The instructions manual (or lack thereof) directed me to www.sanus.com/2688. However the videos talks about how to mount a double stub NOT the single stub. Also it doesn't show me how to mount the brackets to the tv. Horrible.
Date published: 2019-12-07
Rated

5

out of

5
by
parker
from
Works great, easy installation.
Not sure why there are so many comments about the instructions. I thought they were very straightforward. (I didn't watch the video others are commenting on though.) Went up easily. Is straight and level. Moves freely and holds in place. Exactly what I was looking for.
Date published: 2019-12-01
Rated

1

out of

5
by
JT12
from
Poor Instructions
Video was not helpful. Wish I had purchased a different mount. Purchased from Costco.
Date published: 2019-10-14
Rated

4

out of

5
by
Norb
from
Decent Wall Mount
Just installed a 32" Samsung on this wall mount. Seems to work OK so far. Instructions were OK. Here's a couple of points for your consideration: The instructions suggest using a 1/8" drill bit to drill 2-3/4" holes for the mounting lag bolts. Unfortunately, most 1/8" drill bits are only 2-1/4" long. When mounting the horizontal bracket to the TV, there's quite a bit of "play" when using the M4 or M6 screws (because the bracket hole needs to be large enough to accommodate the M8 screws). Perhaps Sanus could supply the smaller washers with a shoulder, instead of flat washers.
Date published: 2019-08-07
Rated

4

out of

5
by
SteveR
from
Works Great
I bought this at Costco today and came across the reviews looking for the ridiculous instructional video (totally different model). I was concerned I would be in the same boat. But I received all the correct hardware. I did have a hiccup with the screws that mount the vertical TV bracket to the horizontal brackets. Looking at the instructions, It shows the vertical bracket centered on the horizontal brackets. But the screws are too short. Fortunately for me, I was only off by one hole, so I set the top of the vertical bracket in the top of the horizontal bracket (which looks like it was designed to do that!) and worked great. Took about 30 minutes to install.
Date published: 2019-07-08
Rated

4

out of

5
by
Presto
from
it worked
I bought this from Costco and even though I am pretty handy, I was still intimated by hanging my NEW tv and especially in a travel trailer no guts, no glory! I went 0n line to look for instructions but found none for the Sanus - SMF218. Bummer! I read the instructions and went through it one step at a time and lo and behold, I did it. It wasn't that hard. Just need to read the instructions, hard for a man I admit, but they gave clear and complete instructions. Go for it!
Date published: 2019-07-07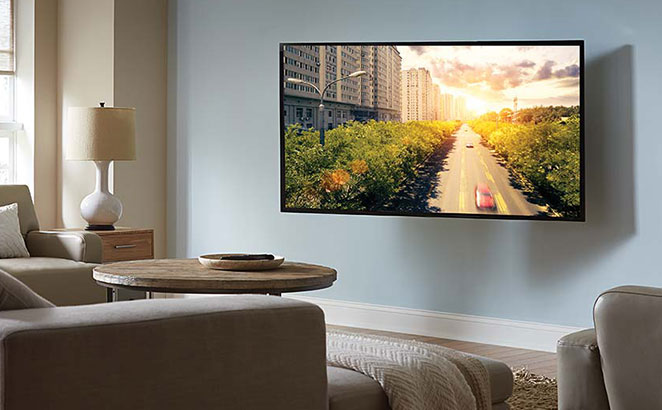 SANUS is the #1 best-selling TV mount brand in the U.S.*
Questions? Contact Us
Monday - Friday 8am - 7pm CST
Saturday - Sunday 10:30am - 7pm CST
*NPD annual dollar sales period ending 12/31/20