Full-Motion TV Wall Mount – For 22"-55" TVs up to 60 lbs.
SMF218
Fits TVs

22" - 55"

Swivel

90° / -90°

Extension

18.00"
SMF218
is rated out of
5
by
56
.
Will this work with my TV?
Enter the model number of your TV to find out.

Here are a few products that are compatible with your TV!
Ready to install your Mount?
Use the HeightFinder for mounting instructions.
Go to HeightFinder
Ready to install your Mount?
Use the HeightFinder for mounting instructions.
Go to HeightFinder
Full-Motion TV Wall Mount – For 22"-55" TVs up to 60 lbs.
The SANUS Simplicity™ SMF218 full-motion tilt and swivel wall mount for most 22" – 55" flat-panel and curved TVs up to 60 lbs. Get the best picture quality anywhere in a room with smooth swivel, pan and extend motions up to 18" from the wall. Exclusive tilting technology allows effortless up and down tilt motion without the use of tools. Post-installation adjustments allow you to level your TV after installation for perfect positioning. Cables can be routed along the mounting arm for a clean look. Included extender brackets and universal compatibility allows mount to fit nearly all flat-panel and curved TVs 22" – 55".
Product Features
Allows you to effortlessly turn the screen to any seating position in the room with air glide technology.
Provides ultimate stability by firmly holding your TV in the desired position.
Stylish design provides a sleek, simple appearance leaving a minimal amount of space between your TV and the wall.
2.4" low profile depth to complement thinner TV's.
18" of extension to provides flexibility for positioning.
Universal TV interface provides maximum compatibility for all TV brands.
Videos to Get You Started
SANUS Simplicity SMF218 Features Video
SANUS Simplicity SMF218 Installation Video
Tools You Will Need For Installation
3/8" Masonry Bit (Concrete Installations)
Phillips Head Screwdriver
The Details
Product Brand:
SANUS Simplicity
Model Code:
SMF218
UPC Code:
793795532145 - Black

Product Width:

17.30

" /

43.94cm

Product Height:

17.30

" /

43.94cm

Product Depth:

2.40"

-

18.00"

/

6.10cm - 45.72cm
TV Size Range:

22"

-

55"

/

55.88cm

-

139.70cm

Maximum TV Weight:

60lbs

/

27.22kg

Supported VESA Patterns

VESA 75 x 75
VESA 100 x 100
VESA 200 x 200
VESA 200 x 300
VESA 300 x 200
VESA 300 x 300
VESA 400 x 200
VESA 400 x 300
VESA 400 x 400

Tilt:

4°

/ -

15°

Roll:

5°

/ -

5°

Swivel:

90°

/ -

90°
Universal Mounting
VESA patterns are measured by the center of one mounting hole to the center of another on the back of a television in millimeters. In the example above, the VESA measurements are 100 (width) x 100 (height). The example TV would be able to use a VESA 100 x 100 mount.
Rated

4

out of

5
by
SteveR
from
Works Great
I bought this at Costco today and came across the reviews looking for the ridiculous instructional video (totally different model). I was concerned I would be in the same boat. But I received all the correct hardware. I did have a hiccup with the screws that mount the vertical TV bracket to the horizontal brackets. Looking at the instructions, It shows the vertical bracket centered on the horizontal brackets. But the screws are too short. Fortunately for me, I was only off by one hole, so I set the top of the vertical bracket in the top of the horizontal bracket (which looks like it was designed to do that!) and worked great. Took about 30 minutes to install.
Date published: 2019-07-08
Rated

4

out of

5
by
Presto
from
it worked
I bought this from Costco and even though I am pretty handy, I was still intimated by hanging my NEW tv and especially in a travel trailer no guts, no glory! I went 0n line to look for instructions but found none for the Sanus - SMF218. Bummer! I read the instructions and went through it one step at a time and lo and behold, I did it. It wasn't that hard. Just need to read the instructions, hard for a man I admit, but they gave clear and complete instructions. Go for it!
Date published: 2019-07-07
Rated

1

out of

5
by
Hockey94
from
Missing the correct screw size
Just like a lot of the reviews say, the package is missing a set of 5m screws to attach the plate to the brackets attached to the TV. Spent 30 minutes messing around with this and will be returning ASAP. Why would they continue to keep it on the shelves at Costco when there are missing screws? Disappointed and wasted time trying to figure it out.
Date published: 2019-06-06
Rated

1

out of

5
by
Cade
from
Missing Hardware
Opened up the box and found I'm missing 3/4 of the hardware that's supposed to be included. The majority of the screws, bolts, and spacers are not there. Extremely annoyed and disappointed.
Date published: 2019-06-04
Rated

1

out of

5
by
Pappy 69
from
Worthless instructions
I'm very skilled mechanically. These instruments are worthless. I'm throwing the junk away and finding something better The difficulty to leave this review is similar to the product instructions.
Date published: 2019-05-22
Rated

1

out of

5
by
impactgreg
from
worst install video i have ever seen
omg that is the worst install video i have ever seen !
Date published: 2019-04-13
Rated

5

out of

5
by
John23
from
Great Mount
It did everything I wanted it to, I can easily move my TV around.
Date published: 2019-04-11
Rated

4

out of

5
by
TLC51
from
Pretty Easy
I bought this about a month ago and finally got around to installing it. I started with the video which was pretty worthless since it only addressed a different model. Then I read the reviews and some of them made me wonder if I should just take this back to Costco. But, I decided to give it a go and, frankly, the instructions were well written and the installation was pretty easy. If it weren't for the video issue, I would have given this 5 stars.
Date published: 2019-02-10
Rated

5

out of

5
by
Danaidh
from
Excellent Installation Design and Instructions
This wall mount kit came with enough bolts and other accessories for a multitude of TV models and configurations. The instruction booklet had complete step-by-step instructions with diagrams for each phase of installation. There is even an option to mount onto a cement wall will associated instructions. One bit of advise, read the instruction booklet all the way through to get an idea of what the order each step is about. For example; installing the locking screw is the very step after the TV is attached to the mounting plate.
Date published: 2019-01-20
Rated

5

out of

5
by
dcrunner
from
Perfect for my TV. Straight forward installation.
I bought this at Costco. After reading some of the reviews about missing hardware and difficult installation, I was worried, but everything went smoothly. I had all of the parts. The instructions were clear. No problems. I like this product.
Date published: 2018-12-27
Rated

1

out of

5
by
Helmut
from
Instruction suck
Just bought this at Costco and I was looking for video instructions. They have a website to lead you to the instructions but the website shows a different model than what is on the box. There is also a phone number on the back of the box which is discontinued it would be nice to have a little back up. Even a simple video which I thought they had according to the back of the box. I am taking this back to Costco I do not recommend it
Date published: 2018-12-24
Rated

4

out of

5
by
RoscoP
from
Flawless
My partner bought this from Costco in the UK, to mount a 32" on her bedroom wall. Despite the sites compatibility checker saying it wouldn't work with her 100x200 beds TV it did, only incompatible aspect was a lack of M5 screws (M4-M6 were included). Mount went up fine and has an adjustment screw on back for post installation levelling which the instructions lack any useful info about other than turn with a screwdriver (loosen lock nut first when doing this) other than some silly issues it is a great mount.
Date published: 2018-12-23
Rated

1

out of

5
by
Steven
from
Poor instructions,
Poor instructions, Not for every TV Make. Had to improvise to get TV mounted. Wrong screws.Took more than 2 hours to install. not happy
Date published: 2018-12-21
Rated

1

out of

5
by
BFR123
from
Wrong Screws, what a disappointment
We bought a TV and mounting bracket at Costco, came home all ready to put it on the wall only to find out that like the other person above, we did not get the right screws. But unlike him I don't have the ones needed in the garage, so it's back to Costco to return this useless mount. Also, the screws are very poorly labeled. Yes, they do tell you that they are 2" long or whatever, but the labels in the instructions have no relationship to the labels on the hardware pack. It can be overcome, but omg, why make it hard? And the installation video was useless too. We have the SMF218, but it shows a generic video that doesn't help us find the screws we need. If he had said, "Now get the 1.5" #8 machine screws and attach the...." I could have simply gone to Home Depot and gotten them. But now I'm just tired of this thing. No more SANUS for me.
Date published: 2018-12-21
Rated

2

out of

5
by
Allie
from
Must have a centered stud
We like the Sanus tv mount products, but please be aware with the single-stud mount model, your wall stud must be perfectly centered to where you want to mount the tv. The mount has no post-install horizontal adjustments to help center. Unfortunately, our only wall studs were severely mid-centered from where we want to mount the tv on the wall, so this mount will not work. It would be helpful to include this type of information on the box, so consumers are aware at purchase time. We returned this one.
Date published: 2018-12-16
Rated

5

out of

5
by
Saint
from
Works great
Purchased it at Costco with a 55" in Samsung. Installed it over the fireplace in a brick wall. Things went very easy. Instructions made it easy. Everything fit as advertised. Very happy with the unit.
Date published: 2018-12-10
Rated

5

out of

5
by
Russ1013
from
Couldn't be happier!
Bought this from Costco for our 58" Samsung even though it listed up to 55" tv's. The mount fit perfectly. Amazing assortment of fasteners included. So easy to install. Love the height finder app. Got a 65" we're gonna mount now.
Date published: 2018-12-09
Rated

1

out of

5
by
Gabe
from
Wrong Screws!
Watch out--The screws don't fit the brackets. I had to rummage through my garage to find 5 screws that match the holes on THEIR tv bracket. Would have given a higher rating but their simplicity of instillation was compounded by my frustration. It works though.
Date published: 2018-12-06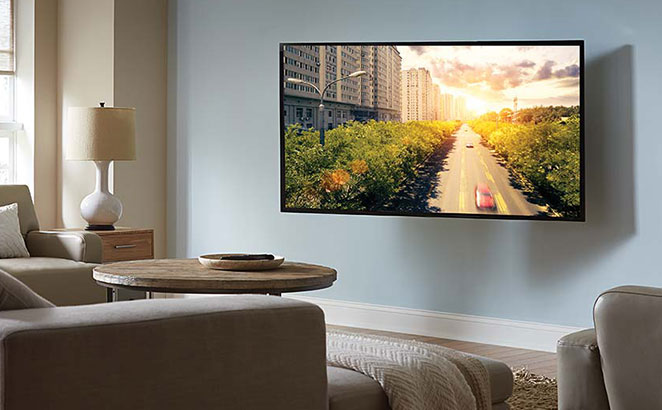 SANUS is the #1 best-selling TV mount brand in the U.S.*
Questions? Contact Us
Monday - Friday 8am - 7pm CST
Saturday - Sunday 10:30am - 7pm CST
*NPD annual dollar sales period ending 12/31/20